Arjun Kapoor Birthday: Meeting Hindi films' boy next door
As Arjun turns 31 today, we look at how his relatability works best for him on screen
26 Jun 2016 9:00 IST
Arjun Kapoor started out in the Hindi film industry with grey characters. Ishaqzaade's flawed Parma, whose smile is evil and naughty at the same time, was Arjun's first outing. The actor fit perfectly thanks to his rawness.
But his grey dual characters in Aurangzeb failed to live up to the initial promise he showed.
Arjun, who has been a fan of the movies and has grown up around big stars, found himself living out his dream with the macho character of Bala in Gunday. The film was a success and Arjun-Ranveer's bromance got a thumbs up from the audience. But it was obvious that Arjun was making a big effort in trying to be the dhinchak, abs-showing, slo-mo-running hero!
Where Arjun fits naturally is the more real characters – the boy next door types. Arjun really came into his own while playing a more affable character of Krish Malhotra in 2 States.
R Balki's Ki and Ka, also brought out the best in the actor. It takes guts for a young actor like Arjun to play a home-maker in a gender-bender kind of a film so early in his career.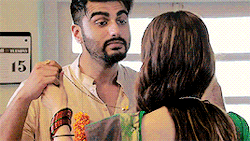 He made a most of his relatable personality while playing the Goan boy Savio, forever in love with a dimpled local beauty.
These are also middle-class stories set in a realistic background rather than the filmy milieu.
Arjun's next release will a movie version of Chetan Bhagat's Half Girlfriend, where he plays a poor student from Bihar, who gets admitted to a high-brow college and falls in love with a rich girl, who does not want to commit to the relationship. We are sure Arjun will really be likeable in this realistically written character as well.
Arjun, who has dealt with a strained relationship with his father, a battle with obesity and the loss of his mother before the release of his first film, is known to be a sensitive person. And its this sensitivity that works for him when he plays the simple middle class guy on screen.
In the coming days, as Arjun grows as an actor, we hope he picks a variety of parts that challenge him. As of now though, we think he's just perfect as Hindi films' boy next door.